SYSTEM 4 ESD Handle
SYSTEM 4 ESD Handle
Description
Wiha SYSTEM 4 ESD Handle
Dissipative

handle, typically 10

6

< 10

9

Ohms - meets IEC61340-5-1

Telescopic / adjustle blade length, typically 18 < 90mm

Click-Stop ball clamp guarantees a secure hold & rapid blade exchange

Ergonomic multi-component handle with roll-off protection
The SYSTEM 4 SoftFinish ESD Handle accepts a range of 4mm blades. The blades are high quality chrome-vanadium-molybdenum steel, through hardened, chrome-plated.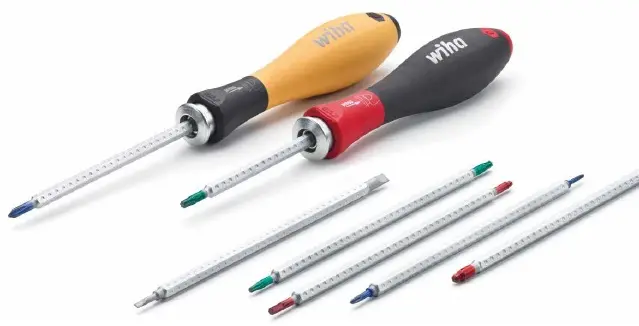 Reversible & Single-ended blade options are:
Slotted: 1.5mm + 3.0mm, 2.0mm + 3.5mm + 2.5mm + 4.0mm

Slotted + Phillips: 2.0mm + PH00, 3.0mm + PH0, 4.0mm + PH1

Phillips: PH000 + PH00, PH0 + PH1

Pozidrive: PZ0 + PZ1

TORX: T1 + T2, T3 + T4, T5 + T6, T6 + T8, T7 + T9, T10 + T15, T15 + T20

Combined Ball-end Hex + Hex (same size both ends): 1.3mm, 1.5mm, 2.0mm, 2.5mm, 3.0mm, 4.0mm

Thin-walled Nut Runner - reversible: 1.5mm + 1.8mm, 2.0mm + 2.5mm

Thin-walled Nut Runner - single ended: 3mm, 3.2mm, 3.5mm, 4.0mm, 4.5mm, 5.0mm, 5.5mm

Bit Holder: Suitable for C4 (4mm) bits
Please contact the office for a comprehensive catologue of options.