Bimos ESD Fin Stand Stool
Bimos ESD Fin Stand Stool
Description
BIMOS ESD Fin Sit Stand Stool

Fin ESD is a great solution in all those areas of work where until now it has not been normally possible to sit down, but where standing up all the time is too tiring ... when you need a kind of chair stool ...
Fin can take almost 60 % of body weight off the legs and feet, and redistribute it over the wide seat and the ergonomically inclined column – without restricting the operating radius.
Previous sit stand perch stools were not suitable because they took up too much space, or were too complicated to use, or were not stable enough. But Fin ESD has revolutionised standing work, because Fin
Is unique

is space-saving

is very comfortable

is secure and stable

is light and easy to move

has a discharge resistance of 10

6

Ω, so fulfilling the requirements of

ESD standard EN 61340-5-1.
Working- The seat can be swivelled 20 degrees to both left and right. This creates flexibility and freedom
Easy to adjust - The height of the seat can be adjusted easily. As soon as you sit down, you experience maximum sitting comfort as the gas spring gives gently, and cushions your weight.
Practical to use - The comfort handles are built in the side sections of the washable seat. This provides a feeling of safety at all times, when sitting down, bending over, and standing up. Fin can be moved around very easily
Comfort - The wide comfort seat made from Soft Touch PU foam gives you a really comfortable sitting experience, even when you are sitting for a long time.
Stable - The base and the aluminium column, inclined by 4 degrees, gives complete stability while moving and sitting.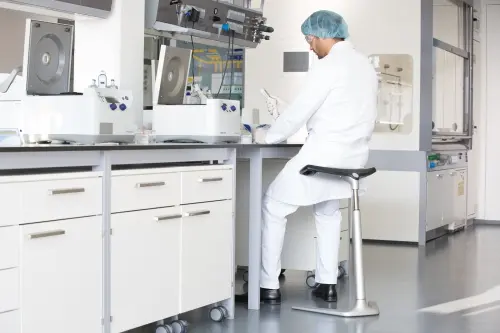 Features:
height adjustment from 620 to 850 mm gas spring

changeable glides

comfort seat in Soft Touch PU foam

comfort handle

robust aluminium frame

20 degree seat swivel functionality

ESD certified
Specifications:
Seat: Height 620-850mm Width 450mm Depth 150mm

Weight: 8 kg

Volume: 0,09 m³
Colours:
Blasted aluminum leg frame
Standards:
DIN 68 877 German GS "safety tested" mark of confirmity

Quality Management System DIN EN ISO 9001

Regulation EWG Nr. 1836/93 and Environmental

Management System DIN ISO 14001
Warranty:
3 year limited warranty on upholstery, castors and gas spring, 5 years on the
rest